Episode 169
Financial Therapy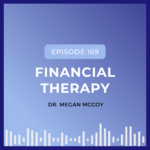 Managing your finances isn't just about holding, folding, spending and saving. In fact, how we approach money is often a complex web of our attitudes, desires, fears, goals, education, and relationships. This means that we often perceive our path to success as a set of financial behaviors when, in reality, being healthy financially requires engaging in the things that drive our behaviors in the first place. Enter Dr. Megan McCoy.
In this episode, we talk with Dr. McCoy on the 4 main ways (scripts) folks relate to money, the key difference between a rich and poor mindset, and why logic often fails to have the desired impact on influencing our behavior. Plus, the curious consistency of financial anxiety people have, regardless of whether they have a financial advisor, and how to approach financial literacy in the school years in a way that doesn't contribute to that anxiety.
Finally, the tangible power of optimism and the impact of COVID on, well, everything.
Have feedback about the show? Shoot us an email at podcast@uncommonwealth.com.