The first appointment with an advisor can be the best or the worst experience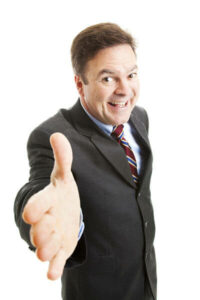 We believe there are two main reasons why people don't want to talk to a financial advisor. One, people are inherently distrusting when seeking financial guidance, and two, people are embarrassed that they aren't where they want to be financially. No matter what the reason, the first appointment with an advisor is often a very daunting meeting for the prospective client.
The number one focus in our first meeting is to establish trust with you. Here are a couple ways other advisors lose trust in the first meeting: asking probing questions about money, not asking follow up questions when the client starts to talk about personal things, and my personal favorite, when the advisor whips out a list of all your LinkedIn contacts and asks for a personal introduction to at least five contacts. No wonder people have apprehension about talking to a financial advisor!
It is our belief that the best way we can establish trust in the first meeting is to provide value. We love to cast a vision by giving you information about a particular financial strategy that might be a good fit for you, and let you try to scale it to your particular situation. We want you to get excited about what you could do with what you currently have. Even if you have no money, you will love having vision and guidance to get somewhere different than where you are today.
We want to help you identify what you are passionate about. We want to listen and understand as much as we can about you and your definition of financial success. The only probing questions we will ask are ones that will help us understand your goals. We will likely share some (anonymous) personal examples that we have seen with clients and where they are today; it is so satisfying to share real examples of how financial success CAN be achieved. We will share about our background, credentials, and why we are in the business.
We always know if we've had a great first meeting when we can see the person on the other side of the table start engaging in the process- wanting to know what the next steps will be, how can they get closer to what they want, and ultimately how we can we help them get there.
We want to offer you hope when you look at your financial future, and build a relationship with you for years to come.