Meet March's uncommon client – Drew McLellan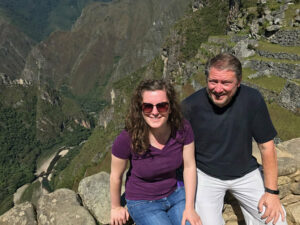 Tell us a little but about yourself, your background, family and work
My name is Drew McLellan. I'm a Minnesota native who has lived in Des Moines since the 90s.  I'm the dad of a 27 year old daughter (Kelsey) who is a nurse and I own two businesses and some real estate.  My first business is McLellan Marketing, which I started in 1995.  We're a full service advertising agency and celebrated our 25 year anniversary in 2020.  My second business is Agency Management Institute.  We teach agency owners how to run the business of their business.
Describe where you were at with your financial life before learning about Bryan/Phillip & Uncommon Wealth Partners.  What were your biggest worries and challenges and how were you tackling them?
Before I met Bryan and Phillip, I was doing a lot of the traditional things — 401K, some investments, etc.  I was looking for fresh ideas, new opportunities and smarter options tied to both my retirement goals and my tax strategies.  My concerns were — doing things the "ordinary" way never seems to yield extraordinary results.  I wanted more but wasn't sure what questions to ask or who to consider as a partner. 
I had also started two foundations my my parents' names after they passed away.  Both foundations funded scholarships in my parents' names and it was important to me that I keep building the funds so more kids could earn the scholarship money to honor my parents' memories,
I didn't have any debt other than my primary mortgage but I knew I could be doing more with my money.  I just didn't know how.
How did you hear about Bryan/Phillip & Uncommon Wealth Partners and what were you looking for that you hoped we might be able to deliver?
A friend of mine told me about the incredible potential of a whole life insurance strategy.  I could protect my family, grow my resources tax free and become my own bank for my real estate investments.  he introduced me to Bryan and Phillip, who had introduced him to the concept and helped him get started. It sounded too good to be true.  I met with Bryan and Phillip and took some time to get to know them.
After they earned my trust, i was ready to take the first step.  I purchased two life insurance policies.  From there, we began talking about taking a more holistic approach to my financial goals.  For the first time, I felt like I was doing more than putting money here or there.  I was working a plan with some very concrete goals and milestones to measure my progress against.
Talk about the progress you've made in your financial life since working with Bryan/Phillip & Uncommon Wealth Partners.  How have we changed the course of your finances, the vision of the future, stress level, etc.?  How have we helped?
Once we got the whole life insurance strategy in place, I bought a couple more real estate properties — using my own money (inside the life insurance policy) as the down payment.  I'd borrow money from myself, buy a property, pay myself back and do it all over again. We also worked on sampling my investments and the guys worked hard to move me from funds/investments that came with high fees into more cos effective options. 
One of the things I appreciate most about Uncommon Wealth Partners is that they make the best recommendations for me, regardless of how they do or don't benefit financially. They are helping me with my entire financial life — even if it doesn't involve them.  That commitment to do what's best for me has earned my trust and my loyalty.
We have a big picture vision and the game plan to get there.  I actually understand where all of my money is, why it is there and how it plays into the bigger picture.  And one of the things I appreciate most about them is that they don't bring me cookie cutter solutions.  They get creative and help me solve the problem at hand.
My faith in both Bryan and Phillip is so strong that when I wanted to create a 401K program that all of my clients could participate in, I went to B&P.  I knew I was asking for something that you couldn't find on a shelf but they researched and investigated options until they came up with a solution that was a huge benefit to me and my clients.  I value their willingness to explore what hasn't been done and figure out a way to make it happen.
What's next for you.  What's a big money goal you want to accomplish and what, if anything, have you/we set in place to make that happen?
Over the last few years, thanks in part to B&P's counsel, I have accomplished many of my big goals, like visiting every continent with my daughter. (The picture is of us at Machu Picchu in Peru) My next goal is to create enough passive income to equal or exceed my annual earning from my job.  It's gong to take some time but it would be quite the gift to leave to my daughter and to ensure my parents' legacy forever.