A case study in real estate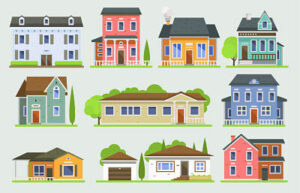 In the old days (the 1980's), we didn't have social media – Facebook, LinkedIn, and Twitter or cell phones, let alone smartphones. We didn't have a lot of the things that connect us today that most of us just take for granted. Back then, when the idea of buying or selling a home came up, no one really even considered doing it yourself because how would you know where to look, what to look for or how would you figure out much your home was worth? Data and information was valuable and the real estate agents had it.
Now, things couldn't be more different.  We have Zillow, HGTV, County Assessor's pages, FSBO, Trulia, and many more ways to connect and gather information when you want to buy or sell a home. Recently, Phillip sold his house. He did it in a way that we had talked about with clients because frankly, it was time to eat our own cooking. Phillip and his wife got their home ready to sell, she went on vacation and he was tasked with selling their home in one week.
Let me preface this by saying he lives in one of the fastest growing communities in the Midwest, so it is definitely a seller's market especially at the price point he was at. They had already found the home they wanted to move into and didn't want to delay so time was of the essence.
Instead of listing his home with a Realtor or Real Estate agent he decided to try selling it himself. With some pictures in hand and his Facebook page, he took to social media, listing his house digitally and away things went.
The beauty of doing it this way was that there were no for sale sign in the yard and there was no back and forth trying to schedule showings. Phillip and his network reached out and were able to coordinate folks looking at his home on his terms, not the real estate agent's terms.
For the sake of time and since I am more the numbers guy, let's show you how he did it by getting to the numbers.
I told Phillip I think he should list his house at $224,900. Since he normally doesn't listen to me he listed it at 219,900. Within 4 days Phillip had accepted a full price offer on his home. They closed in 45 days. Let's dive deeper. The average real estate agent commission where Phillip lives is 6%, split between a buyer's agent and a seller's agent. Phillip really wanted to net $210,000 on his house to have a nice down payment and upgrade a few things on their new house.
To net $210,000 he would have had to list it with closing costs, taxes and agent commissions closer to $225,000. He was able to list and sell it below that and still net more than he would have had he raised the price. The buyer won too because instead of buying the house at $225,000, he got it for $219,900 saving them $5,100 on their first home. So, the agent's commission got split almost 50/50 by Phillip and the buyer. Win-win. The legal fees cost Phillip, out of pocket, less than $1,000 to "close" the transaction.
Now, how did Phillip go about buying his new home? Phillip not only sold his home without an agent he also bought his house without an agent. The seller of Phillip's house told him candidly he was going to list the house for $425,000 because, with a 6% commission to agents, he wanted to net closer to $395,000. Since Phillip and his wife agreed to buy the home without an agent, the seller lowered the price and their purchase price was $395,000.
So, if Phillip would have sold his home with an agent he would have netted $210,000. He ended up netting himself $217,500 after closing costs, pro-rated taxes and a couple things fixed for the buyers. Then he bought a house at $395,000 instead of the price they were going to list it at – $425,000. So, $7,500 saved on the sale side and $30,000 saved on the buying side, adds up to a savings of $37,500. That is a lot of money.
Now let's take it one step further. When you pay your mortgage payment not every penny of your payment goes to principal, so I wanted to figure out how many mortgage payments it would take on the new mortgage to net $37,500. So, I calculated it. It took 74 monthly mortgage payments on the new mortgage to accrue $37,500 of equity on top of the down payment factoring in no capital appreciation. 74 months or 6.16 years of payments to compensate for real estate agents being involved in his transaction.
In one of our previous articles, we highlighted that over 50% of Americans in their 60's don't have their house paid off and that the average American moves every 5-7 years once they are out of college. With the way banks amortize homes and the way real estate agents charge commission, it is no wonder if you only make the minimum monthly payment, it is very hard to get ahead in real estate.
We don't write this to promote the house that Phillip bought or to show off, but to show you that this stuff matters. We are trying to get you to walk the uncommon path and want to show you that we too are on that uncommon path with you.  Every step of the way.