Is It Time to Take a Bite out of Bitcoin?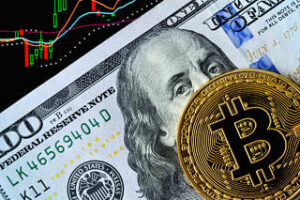 Bitcoin peaked at nearly $20,000 in December 2017. With a drop just below $6,000, many confirmed and gloated about the bubble that formed. From the beginning, our position has been this is a long-term trend and like the internet age of the 90's, there are many parallels.
Now that the price has washed out, there are many signs that Bitcoin is not going away and as such, will be an ongoing part of our future. Let's focus on three signs that we have been seeing that led us to such a conclusion.
First, major corporations are investing heavily. From Wall Street to tech and even industrial firms, we are seeing major signs of investment and belief by the biggest corporations in the world. The blockchain is being invested in heavily. For example, click here to take a look at what Amazon is doing.
Second, countries are examining the technology and platform for use with their national currency. Click here to see how countries like Venezuela, Israel, and Russia are looking at leveraging the blockchain and crypto assets as a national currency.
Third, history often repeats itself. If we are comparing this to the birth, growth, and adoption of the internet, could this go faster and further 20+ years later? Let's look at some basic facts about the tech growth in the 90's and then compare that to the crypto asset market cap.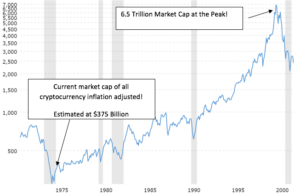 To the right is a chart of the Nasdaq index dating back to the early 1970's. It shows the infancy of the blockchain and cryptocurrency assets relative to the beginning and formation of the technology sector as an asset class. It shows the peak of the Nasdaq into the dot-com bubble peaking in early 2000.
If this is any indication, it shows us that blockchain and cryptocurrency are just getting started. Coming off the most recent bubble in December 2017, Bitcoin is finding its bottom here bouncing around $6,000 a coin.
With many public companies investing in blockchain like Amazon, IBM, Microsoft, Goldman Sachs, JP Morgan and others, staying long in the Nasdaq and S&P is providing some credible exposure to blockchain and cryptocurrency assets.