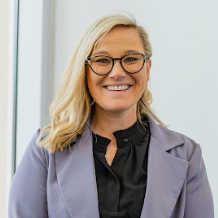 Haley Phillips
**Haley's bio was written by other members of the Uncommon team.
Making sure things get done is the micro version of Haley's job description. She's a multi-tasker extraordinaire, which makes her good at her job. But there is way more to what she brings to the team.

Her ability to put herself in other people's shoes and empathize with them means she is great with clients and also brings out the best in the rest of the team. Her background includes roles in event planning and retail management. Haley displays versatility and an ability to help get things done, holding us accountable to what we say we are going to do. That translates to not just helping us stick to our mission, but making sure clients receive extraordinary service. She communicates in a way that is caring and direct. Her servant leadership makes the team shine.

Haley has a best friend in her husband Matt. They have three children: Hudson, Quinn, and Sutton. Together she and Matt run The Fletcher Foundation, helping families in the aftermath of a miscarriage or stillbirth. Wherever she is, Haley is a woman on a mission!