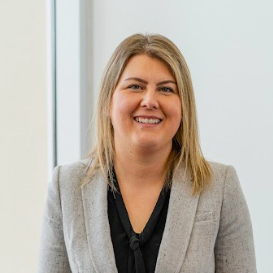 Ashley Fox
**Ashley's bio was written by other members of the Uncommon team.
Ashley prefers anonymity, but her work speaks for itself and it isn't keeping quiet! Ashley cares deeply about helping others reach their financial potential and exceed their short-term and long-term financial goals through financial planning.

Ashley comes to Uncommon Wealth from Wells Fargo Wealth Management and Wells Fargo Home Mortgage. She knows the world of finance from just about every angle.

She likes to see others succeed. With a strong work ethic and a hunger for knowledge, there is nothing she loves better than to put that knowledge to use on behalf of clients. Ashley loves to understand clients personal histories, world view, and current situation so she can help with strategies to fulfill clients' dreams. She has a keen sense of detail and is quick to see potential challenges and offers better ways to move forward.

Ashley and her husband have two young sons. Travel near and far was a big part of their lives BK (before kids) but the adventure just stays closer to home now, and Ashley wouldn't have it any other way.